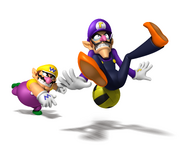 Mario's All Stars Sporting Games
is a sport game developed by NBAJ. It featuring Mario and company competing many sporting events. It was release on June 13, 2010.
The Players can choose to many sports they want. The Wii remote is use in this game.
Characters
Edit
Mario
Luigi
Bowser
Nim-nom
Peach
Birdo
Toad
Daisy
Wario
Kemesh
Yoshi
Waluigi
DK
Lizardos
Diddy Kong
Tennis
Skiing
Golf
Go-Kart
BasketBall
Volleyball
Dodgeball
Soccer
BaseBall
Brawling
Mario's Solar Jam Stage
Mirage Valley
Yoshi's Island
Nim-Nom Land
Princess Peach's Coney Island
Toad Town
Twisty Maze
Cotton Candy Valley
Ad blocker interference detected!
Wikia is a free-to-use site that makes money from advertising. We have a modified experience for viewers using ad blockers

Wikia is not accessible if you've made further modifications. Remove the custom ad blocker rule(s) and the page will load as expected.